I am four months behind posting to my fishing blog. Sometimes real life gets in the way of fishing and blogging I suppose!
So what I'm going do is post some slideshows I've put together of various fishing expeditions. Don't expect a lot of narrative - just the bare bones for now And I havent weeded out or cropped any photos to make the slide shows more presentable either. Hey! It's not an artistic masterpiece! I'm playing catch up here, right?
The first slideshow is from November 10, 2009 at Bonita Bill's and the Sanibel causeway. My son, Ben, (a blimp pilot) was visiting a few weeks before leaving for his new job in the San Francisco area. Ben will be working with the zeppelin blimp out of Moffet Field in Sunnyvale. Ben got skunked this particular day, but ole dad managed snook and grouper!
Ben and I were back at Bonita Bill's on 11/12/09. We fished with live pinfish off the docks there. This day we both managed some gag groupers! Our little buddy, Splash - the Bonita Bill's bar cat kept us company!
Ben wasn't feeling well on 11/13/09, so I went back to Bonita Bill's again and dock fished for grouper - with some success.
Though we caught a lot of grouper at Bonita Bill's, they were all too short to keep That changed on 11/16/09 however! We stopped by Mel, the kayak guy's place in Matlacha and rented a second kayak for Ben to use, then we headed out to fish Bunche Beach. We actually launched from the beach just east of the Sanibel causeway, then paddled back towards Bunche. We really spanked the ladyfish that day. We got a nice spanish mackerel, and decent bluefish for the grill too. We caught a bunch of short red grouper and gag grouper, then Ben hit the jackpot with a legal 22 1/8" gag! We ate well that night. Here's some slides and video of Ben working a grouper from his kayak.
Here's some video of Ben working a grouper from his kayak.
November 17th was my birthday. Ben decided to take a day off from fishing, so I headed back to Bonita Bill's for some more grouper fishing. I always make it a point to try and fish on my birthday. Bonita Bill's was a good place for it too since I knew if I didn't catch fish, I could catch a beer buzz there! I actually did wind up with a couple of nice gag grouper that day. One of them was just a hair shy of keeper size too!
November 19th we headed back to the Sanibel causeway. Having returned the rental, we just had my kayak. Ben took the Kayak out from the gulf side of the restroom island there while I fished the west end of the B-span under the bridge. I was fishing a chunk of cut ladyfish on the bottom at the last of the incoming tide and hooked what I suspect was a decent sized shark. Whatever it was, it bit through my 50 lb flurocarbon leader after a furious run of 50 or 60 yards. I re-rigged, rebaited with 1/2 a ladyfish and promptly hooked into what I suspect was a decent sized Goliath Grouper. The GG took a short run then found a crevice on the bottom to wedge himself into. I might just as well have tried to dislodge a volkswagon filled with concrete from the bottom! No pictures of either situation though.
Meanwhile Ben was tearing up the bluefish, spanish mackerel, and spotted trout while trolling X-raps and Yo-Zuri's just several hundred feet off the beach.
Ben finally had to head off for his new home and job in California, so I fished alone at Bonita Bill's on 11/23/09. You can tell I was alone because nobody was there to hold my camera so I had to shoot picks of the fish myself! Got a couple of short grouper there that day.
I took a week off from fishing and lo and behold, it was suddenly November 30th! The last day of snook season for 2009! I knew where some big ole fat boys we laid up under the docks and along the pilings at Bonita Bill's so I headed out to catch me a snook on the last day of the season! It's hard to catch a legal snook! They have to be 28 inches minimum length and they can't be more than 33 inches maximum length. I've caught one snook way too big to keep and a lot of them too small to keep and a few of them just the right size, but during the time of year when the season is closed so no - I had never got myself a legal keeper snook! The other fish I had yet to catch was a Tarpon. By my estimate, I've hooked eighteen tarpon in my 10 years in Florida but have never landed one. It seems I usually lose the tarpon and almost always my lure or hook when I have hooked one. So to make a long story short, I headed back to Bonita Bill's with a live bucket of pinfish for bait and I commenced to snook fishin'! For 2 1/2 hours I soaked those live pinfish in every single spot I had ever seen a snook hiding at Bonita Bill's and zip! Zero! Nada! Not even a bump on my bait! I'd worked myself up a powerful thirst too! A kind gent who often comes to see our band, the Yard Dogs, perform walked out on the dock and handed me a cold brewski! I thanked him profusely and just as he turned to walk back to the bar, ZZZZZzzzzzZZZZZ - burning drag and fish on! I worked the fish and saw a silver flash just below the surface. I thought to myself, "Damn! That snook is gonna be too darned big to keep!" Then it jumped and I about pee'd my britches! I had a tarpon on and that bad boy was hooked good! It was just a little tarpon, but it was damn sure the first one I ever managed to land! he jumped at least a half dozen times and put on quite a show for the folks sitting at the bar! He tried to wrap me up in the pilings too, but I managed to head him off each time he tried to wrap me up! This was the result!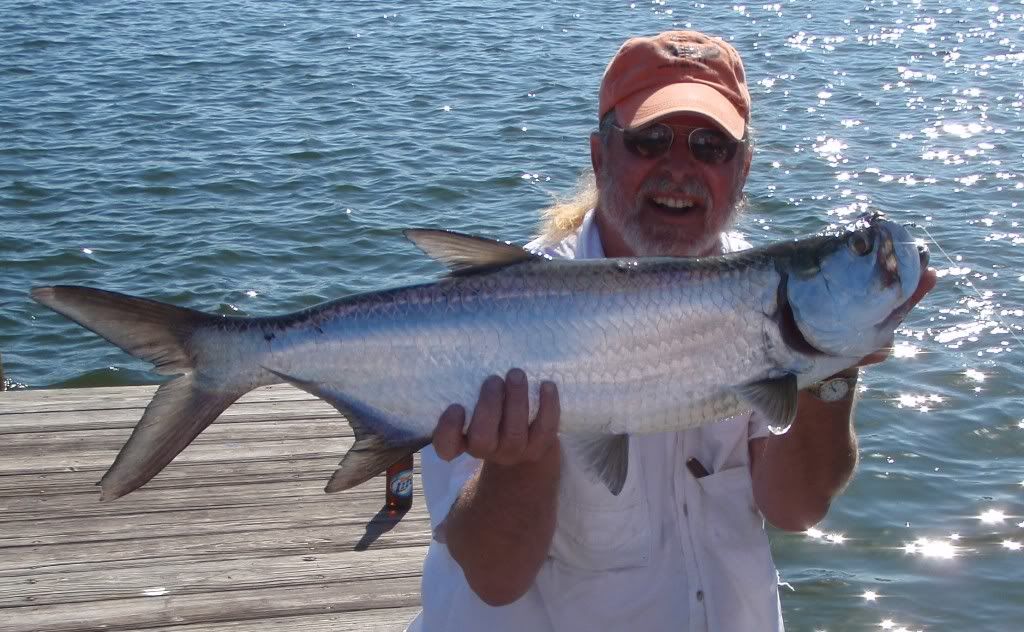 My beer benefactor immediately returned and volunteered to snap pics while I unhooked the tarpon. He was merrily snapping away with my camera as I was posing with the tarpon when I noticed he had the camera turned around backwards! When I pointed that out, he turned it back around and did manage a few shots of me with the fish!
But I thought I would include some of his original "tarpon photos" too!
Between December 7th and December 18th, I fished a lot at Bonita Bill's. Truth be told, i kinda got into a rut fishing there. But it was just so much easier than hauling that kayak around and I was getting lots of fishing action there too. I had several big snook (of course AFTER the season was closed and I couldn't keep them!) I also got a few grouper - some of them almost keepers too. But the bite that seemed to really turn on in December was the Crevalle Jacks! I started catching jacks in the 10-12 pound range and had many in the 3-8 pound range too. Here's more pics...
My last fishing trip of 2009 was also to be the last fishing trip for a couple of months! It was on December 21st. I seldom wear long pants, but you can see I was wearing them on 12/21/09! In fact, I think I've worn them just about every day since! Here are the photos from that day. I caught more fish, but was bored with taking photos of jacks and grouper. Here's what I did snap...
2009 was a good fishing year. 2010 has been a horrible fishing year thus far. We lost untold numbers of snook, jacks, ladyfish, spadefish and tarpon in the massive cold weather induced die offs that happened in January and February this year. It was too cold and too windy to bother with fishing for two months. It's STILL running about 15 degrees below normal for southwest Florida for this time of year! It's supposed to srtart a warming trend this weekend. I hope the warming trend continues!